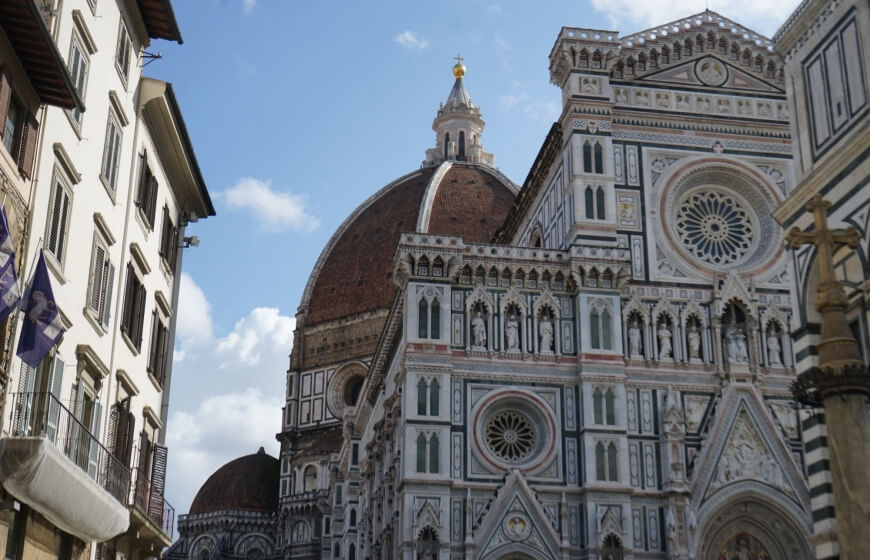 Just a stone's throw from the imposing Cathedral of Santa Maria del Fiore, Le Stanze del Duomo B&B will allow you to experience the authentic Florentine atmosphere, explore the most charming corners and enjoy your vacation to the last moment.
Our rooms and apartments, recently renovated and equipped with all modern comforts, are housed in a historic building in Via de' Martelli, in the heart of Florence's historic center.
Whether it is a romantic weekend with your partner, a vacation with family or friends or a business trip, Le Stanze del Duomo offers you different solutions guaranteeing a unique relaxing stay.
We make sure to give you an experience away from the daily routine starting with breakfast.
Le Stanze del Duomo offers you breakfast to be enjoyed at Konnubio Restaurant, which is only a 3-minute walk from the property.
Here you can enjoy a rich and tasty breakfast with fresh and high-quality products, such as cheeses, sliced meats and eggs to satisfy your craving for savory, but also homemade pastries, fruits and juices. Not forgetting croissant and cappuccino for classic lovers, even gluten-free to satisfy any need.
Our qualified and multilingual staff is ready to welcome you and take care of you. Our reception is open daily from 8:00 am to 9:00 pm. In case you plan to arrive later than the above hours, check-ins will be arranged to allow you access independently and without charges. You just have to give notice in advance.
Rooms are available from 2:00 p.m., however, while waiting for your room to be ready, you can leave your luggage with the front desk staff who will take care of storing it in a designated space.